"It was Coach Kelli's unwavering belief in me that got me to believe in myself. Every call would start with her reassuring me that if I did it before, I can do it again!"
Born and raised in Capetown, South Africa, in 1991 Vivienne Kaseno came to America to see what it had to offer. A few years later she was married and had a set of twins. Once her twins went to kindergarten she was anxious to get back to work and decided to get her real estate license. Shortly after getting her license she attended a Buffini & Company event, "The event was very impactful and I liked everything that I saw. It was a no-brainer to jump in and hire a coach."
Though Vivienne and her coach worked together for many years to overcome the challenges of a difficult home life, there came a point where Vivienne realized that it was in her and her children's best interest to move on.
She left on a Monday morning with a suitcase and her children in tow.
"I was thrown into a situation where I had to support my children. I was working three jobs and had to leave coaching." Through that difficult experience Vivienne's confidence was lost.
Years later Vivienne met Greg, whom she eventually married. He asked her to what she could attribute to her best year in real estate. She explained it was her Real Estate coach at Buffini & Company. The next day Vivienne called Buffini & Company and got Coach Kelli back.
Her husband explains, "It's been so awesome to see the impact Coach Kelli has had in Vivienne's life. Her personal growth and confidence, not just in business, but how she's grown as a person, it's been truly remarkable and I'm so blessed to have Buffini & Company in our lives."
Even though Vivienne is really proud of what she's done business-wise, all of her personal goals have also been achieved, including her biggest goal of going back to South Africa to celebrate her grandmothers 100th birthday with all of her family. The great news; they paid for the trip in cash.
To see the full story, watch the video.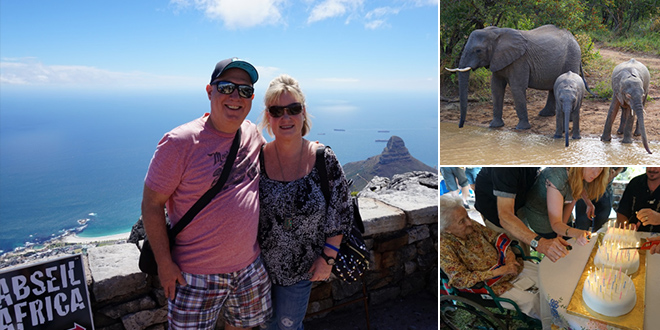 Greg and Vivienne Kaseno's trip to South Africa (Feb-Mar 2015)