Live Chat with a business consultant now or call us direct at 1-800-945-3485 x2.
Referral Maker® CRM Special Pricing Offer $20/month
Valid Only August 14- 16, 2019
Call 1-800-945-3485 x2 to join today!
Buy Now
REFERRAL MAKER CRM
Contact Manager and Productivity Tool
Smart

Set your financial & personal goals and personalized action steps are created for you.
Simple
Always know who to contact, when to contact them, and what to say.
Innovative
Generate a steady stream of referrals from people you want to work with.
Focused
A robust real estate CRM for generating high-quality leads.
How it works
Input your business and income goals
Import your contacts and rank your relationships
Get a personalized activity plan that is based on your input and goals
Follow your daily activities to win the day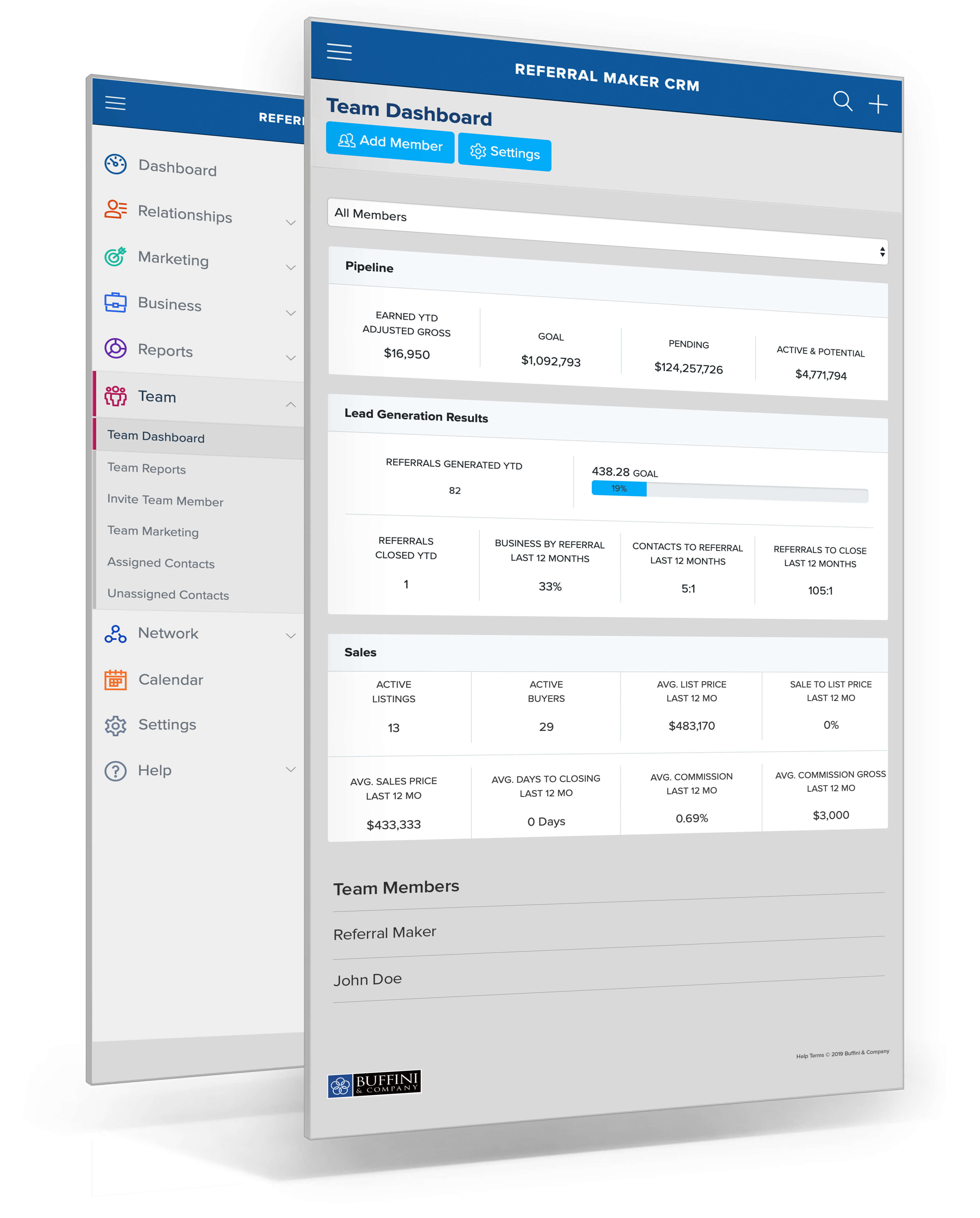 Teams
Get powerful insights about your entire team's business performance.
One-click access to your Sales, Leads and Pipeline
Instant feedback on how your leads are converting
Real-time data on team performance and what activities are generating results
Insight into your team's areas of strength
Success Stories

"I love, love, love the Buffini Referral Maker! The database is so easy to use and the Near Me function under Do Popbys makes fitting in Popbys so quick and easy. I love how the CRM tracks our activities and then puts them in graphs as well. What a fabulous system and Real Estate CRM!"

Delinda Crampton
Las Vegas, NV

"The CRM system makes my life so much easier. All of my database is in one convenient place, I start it up in the morning and I look at my dashboard and it tells me who I need to call, write notes to and pop by to see. Additionally it keeps track of my business and helps in keeping me on track. It is so simple and easy to use."

Debbie Jett
Fredericksburg VA

"I LOVE CRM! From the first time I saw it I was hooked! I knew it would be the core of my business and it has been. The ease of use and all the tools it offers me to be consistent with my clients has been a game changer for my business."

Mike Mudd
Louisville, KY

"The Referral Maker app has saved me SEVERAL times when I'm on the go and need a client's phone number or email. It's so easy and quick to pull up a client and with 1 tap on the phone number link and you are making the call. Thanks so much for such a fantastic tool!"

Amy Graham
Lincoln City, OR
Start Your FREE Trial Now!
Referral Maker CRM