Book a Speaker
Motivate Your Team and Help Them to Grow
Meet our Master Trainers who are available for your events
---
Interested in learning more about our speakers?
---
Brian Buffini
Chairman and Founder
America's Largest Real Estate Training & Coaching Company
Brian Buffini is the founder and chairman of Buffini & Company, the largest training and coaching company in North America. Based in Carlsbad, California, Buffini & Company has trained more than 3 million business professionals in 45 countries and has coached more than 25,000 business people. Born and raised in Dublin, Ireland, Brian emigrated to San Diego in 1986, where he became the classic American rags-to-riches story. After becoming one of the top-producing real estate agents in the nation, he founded Buffini & Company—an organization dedicated to sharing his powerful lead-generation systems with others.
In addition, Brian's podcast, The Brian Buffini Show, has more than 12 million listeners in 178 countries. Brian became a New York Times, Amazon and Wall Street Journal best-selling author with his latest book, "The Emigrant Edge." Today, Brian travels the world sharing a message of encouragement about how to "live the good life." He has been inducted into the RISMedia Real Estate Newsmakers Hall of Fame and has been recognized in the Swanepoel Power 200. Brian and his bride, Beverly — co-founder of Buffini & Company — have six children and reside in Southern California.
Dermot Buffini
Chief Executive Officer
With a unique commitment to leading by example and a strong dedication to Buffini & Company's core values, Dermot Buffini's leadership style is anything but traditional. Since 2013, he has challenged and transformed what it means to be an effective Chief Executive Officer. At Buffini & Company, Dermot breeds a culture of excellence that has garnered the real estate training and coaching company consecutive recognition as a Top Place to Work in San Diego since 2016.
In 2004, Dermot joined his brother, Brian Buffini, at Buffini & Company. Prior to assuming the role of CEO, Dermot was involved in all elements of the company, including events, training, coaching, corporate relationships and business development. He was highly respected by his colleagues and quickly became known as a passionate leader and prominent business strategist.
Dermot continues to remain approachable and accessible for staff and clients. After assuming the role of CEO, he strategically assessed the company's state and analyzed the business to adopt a growth-oriented approach. A master at analyzing one's strengths, Dermot aligned the abilities of Buffini & Company's leadership team and employees to maximize success.
By acting with a customer-first mindset, Dermot has also established Buffini & Company as a household name in the real estate industry, training and coaching more than 3 million professionals in 37 countries worldwide. In 2019, The Pathway to Mastery—Essentials, a real estate training program from Buffini & Company, was one of the strongest product launches ever. With Dermot at the helm, Buffini & Company's award-winning customer relationship management tool, Referral Maker® CRM, has evolved into a user-friendly platform that gives users a sales advantage, with an entire team devoted to keeping it on the cutting edge.
Dermot has been recognized as a finalist for the San Diego Business Journal's CEO of the Year, a RISMedia Newsmaker and ranked in the Swanepoel Power 200. His commitment to excellence has led the San Diego Union-Tribune to recognize Buffini & Company as a Top Place to Work in San Diego consecutively since 2016. Dermot emigrated to San Diego, California, from Dublin, Ireland in 2004. He currently resides in Southern California.
J'aime Nowak
Director of Community Development
J'aime Nowak has been a leading force in the real estate industry for over two decades. Starting her career as an agent in 1995, J'aime quickly began using the Buffini & Company referral systems and proceeded to double her income every year.
She was then asked to manage her office, where she used the same principles to reverse a six-figure deficit, increase profitability and create a culture that was second-to none—all within 16 months.
Brian recruited her to join Buffini & Company in 2004 to bring her skills to a wider audience. She's trained thousands of professionals across North America on how to build a profitable business and fulfilling life.
As Director of Community Development, she clears a path for industry leaders to build an irresistible office with healthy growth, and also inspires and motivates agents to become the very best in the business.
Tony Love
Master Trainer
Tony Love joined Buffini & Company as a Certified Business Coach in 2001. He instructed industry leaders with accountability, motivation and personal action plans to increase agent productivity. In 2005, he became one of the company's foremost trainers.
Tony began his career in the United States Marine Corps, where he spent 10 years honing his management and training skills as a leader, and mastering his ability to work under pressure. Due to his commitment to excellence and exemplary performance, Tony was recognized many times with Certificates of Commendation.
Today, as a Certified Leadership Instructor, Tony delivers specific guidance, through live events, classes and webinars, on what it takes to build a highly profitable referral business and, best of all, have the time to enjoy it. Tony has trained thousands of brokers, owners and managers across North America.
Previously, Tony taught Mentors how to facilitate the sales training program, 100 Days to Greatness®. Now, he brings the all-new revolutionary program, Peak Producers®, to industry leaders throughout North America who want to help their agents develop the habits, attitude and skills to skyrocket their production.
Dave McGhee
Vice President of Coaching
Dave McGhee is Vice President of Coaching at Buffini & Company™.
Over the last 12 years, he has helped hundreds of small-business owners maximize their potential, increase their income and achieve more balance in their lives. As a Buffini Certified Coach, his clients included executives and top producers who have ranked among the Wall Street Journal's top 100, and the National Association of Realtors' 30 under 30.
Today, he leads the team of Buffini & Company Business Coaches. The thousands of clients his team coaches on a daily basis earn an average income is $369,400 a year, that's 10X the national average. With his background in real estate, coaching, business and marketing, Dave has learned the techniques to catapult your success and achieve at your highest level.
Connect: Twitter
Kevin Buffini
Communication & Profiling Expert
For nearly two decades, Kevin Buffini has been a Profile and Communication Expert who has dedicated himself to mastering Buffini & Company's proprietary personality evaluation, the REALStrengths® Profile (formerly known as the Heritage Profile™). This full-self profile provides an analysis of one's natural gifts and abilities and gives in-depth insight into how a person naturally moves through the world and interacts with people, environments and situations.
Kevin's expertise informed the development of Buffini &amp Company's second personality evaluation tool, REALStrengths® Profile which extracts the communication, selling and serving strengths of individuals and teams in a business environment. Kevin has personally analyzed and delivered over 25,000 profiles and trained hundreds of Buffini & Company Coaches on how to use these powerful tools to impact and improve the businesses and lives of their clients.
Today, he trains, consults and lectures about profiling and is considered the world's foremost authority on profiling individuals in the real estate industry. Born and raised in Dublin, Ireland, Kevin now resides in Southern California.
Amy Somerville
Vice President of Professional Development & Industry Engagement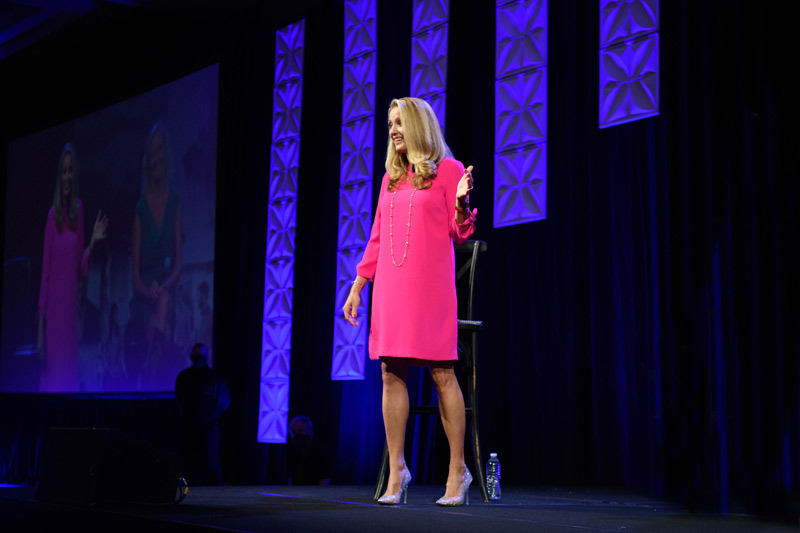 As Vice President of Professional Development & Industry Engagement, Amy Somerville leads Buffini & Company's professional development efforts and leverages her valuable experience as an acclaimed national presenter to support international, team, broker and agent training programs. Amy is a visionary leader and a go-to, high-energy speaker, panelist and facilitator. She has been the host of Buffini & Company 7 Figure Club — Live™ and has also shared the stage with the likes of Jay Leno and Wayne Brady. Amy holds a bachelor's degree in journalism and technical communications from Colorado State University, did MBA coursework at the University of New Mexico's Anderson School of Business and completed an executive development program at The Wharton School at the University of Pennsylvania. Amy is married to her college sweetheart, Lance, and they are proud parents of two young daughters.
Thank you! We will be in touch soon